We eat A LOT of Nutella in this house. It's kind of a weakness of mine and Mike's, and Rascal #3 is slightly addicted to it. I was flying through jars of store-bought Nutella when I had a random thought.
"Self, you like to make everything from scratch. The kids have fun making things. We have a new juicer that can grind nut butters. I wonder if we can make homemade Nutella?"
A quick Google search revealed that yes, you can make homemade Nutella! It's not really that cost-effective (I haven't done the math, but considering homemade Nutella uses A LOT of more hazelnuts than jarred stuff, where the first ingredient is "sugar," I'm pretty sure it's not any cheaper than the store bought stuff).
A jar of Nutella boasts that it contains "over 50 hazelnuts in one jar!" Homemade stuff uses, well, about 3-4 cups of hazelnuts.....quite a difference. I should have counted them, but I'd guess I used at least 150 hazelnuts for one batch, which yielded just under 16 oz of yummy goodness.
I use
this recipe
for my base, and adjust it slightly to decrease sugar and increase hazelnuts and hazelnut oil. The boys still gobble it up quickly, and I enjoy the freshness and the smell that lingers in the house after making a batch.
I've been asked to post more pictures and recipes from our daily menus, so we'll start with yummy, nutty, chocolately goodness: homemade Nutella!
I forgot to take a picture of the hazelnuts BEFORE roasting them - they look like this, but a bit lighter. haha. I use about 4 cups of hazelnuts, which I find in the bulk section of our local Whole Foods. Preheat your oven to 375º, and while your oven is heating, layer them on a cookie sheet (that has a lip - you don't want these rolling away!). Once the oven is hot enough, roast the nuts for about 12-15 minutes. Keep checking them, though - you don't want to burn them. I've found that in our oven, 12 minutes is just about right.
Once roasted, transfer them into a bowl and let them cool until you can touch them. I've read all kinds of methods for getting the skins off of the hazelnuts, and honestly, I haven't found one that works any better (or quicker) than just rubbing a handful of them at a time. The skins flake right off, there's not that much of a mess, and it leaves your skin all super-soft. I'm sure other people will disagree that this isn't the most efficient way to remove the skins, but I've found that it's the best for me. All the other tricks seem to have to be repeated over and over again to get the skins off, so time-wise, it ends up taking just as long as rubbing them off, a handful at a time. Experiment with it to see what works best for you!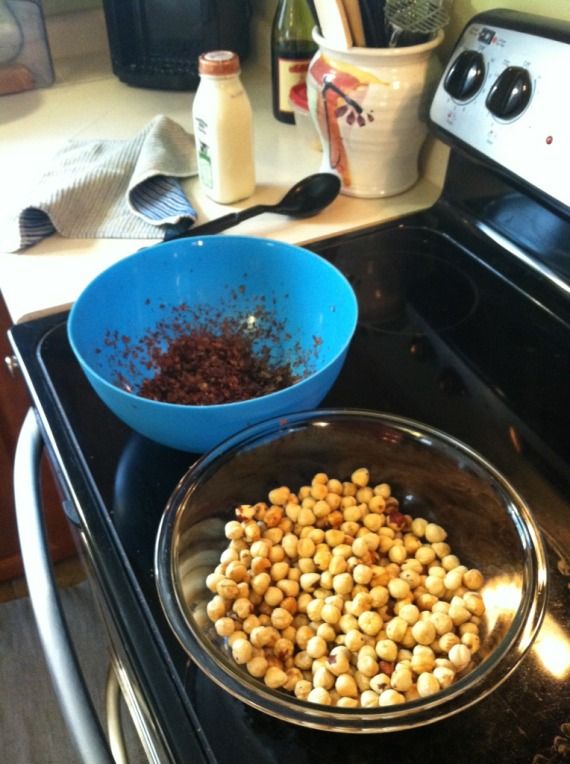 Once you have all of your skins removed, go ahead and toss them. You won't need them anymore. ;) I use our juicer to grind the nuts into a smooth butter, but you can also use a food processor. We bought this specific juicer because of the capability it had to do things like nut butters, so I feel obligated to use it for Nutella. (It works pretty good too!)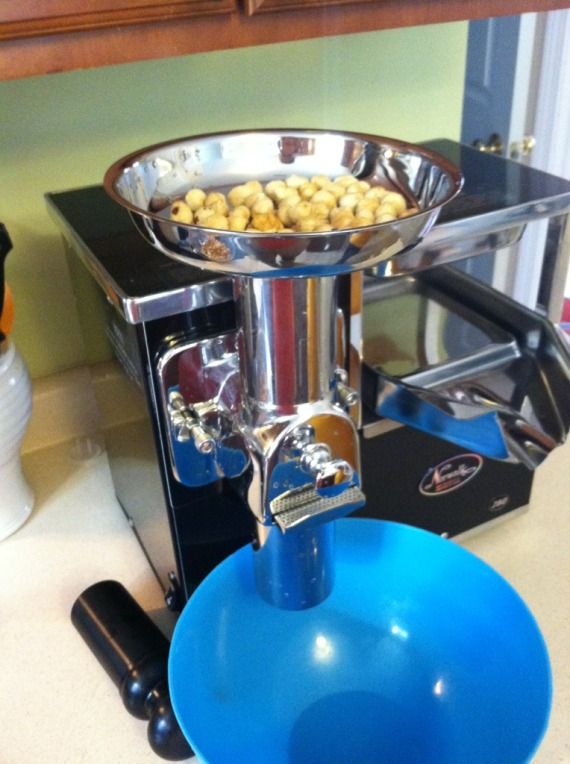 loading up the juicer!
Once you get your nuts all processed into a smooth butter, pull out your other ingredients. You'll need salt, hazelnut oil, vanilla, cocoa, and powdered sugar.
I cheat and put everything into my stand mixer to put it all together, but you can also keep it all in your food processor and just add the ingredients, or try to do it all by hand (if you have enough muscles!!). Add the following to your hazelnut butter:
1/8 tsp salt
1 tsp vanilla extract
3-4 tablespoons of hazelnut oil (I found mine at Whole Foods, and I usually use 4 tbsp so that it's a really good spreading consistency)
3/4 to 1 cup of powdered sugar (I use the smaller amount)
1/3 cup cooking cocoa (I use Dutch-processed cocoa powder, but I've read that whatever cooking cocoa you can get your hands on will work)
And that's it! This will give you about 16 oz of "Nutella," and it will last a couple of weeks (if you don't eat it first, haha). We keep ours out a room temperature, since we go through it so quickly, but it can be refrigerated, too. If it dries out, just add a bit more oil until it's just right again.
So, there you go! Homemade Nutella. Super easy, super fun, and super yummy! Enjoy!